I haven't been in a position to do much scrapping and PSP since my cat Ash was badly savaged by a vicious dog at the end of June. Thanks to the prayers, healing vibes etc. from all over the world Ash has made an amazing recovery.
However I have had an unbelievable ongoing nightmare with the people who failed to keep the animal under control, the Police have been a complete waste of space, it seems they would rather side with lying drinking drugging criminals than good honest folks these days. I have been very unwell as a result of all this, and have the extra worry of having to find the money for a huge vets bill etc. etc. but I've hung on, sometimes by a very fine thread, and am now working with the housing association to get these monsters and their dog evicted, and it's looking good ;) I haven't given up trying to get them to pay up either!!!
My new kit is called Gothik Vampyre, I loved making it, and it's a mixture of Gothic elegance and some real fun dark-humoured stuff, and I think you'll find that the gold I've add to the the usual red and black Goth theme will blend beautifully with your Autumn/Fall/ Halloween tags. Hope you like it and get lots of use from it. As usual no actions or scripts were used, and a little of my own photography is included in the papers. I turned a recess on an outside wall of a Cathedral (better not say which one,lmao) into a spooky gothic vault, hehe!!
I have made an AddOn Freebie for your tagging pleasure, you can download it from Digital Chaos, or from 4 shared , link below with preview, plz leave some love when you download
.
pssssst !!!!! It's worth going to Digital Chaos to download it, new freebies and PTU kits from the other designers are being added all the time!!!
The full kit is available to purchase from
DIGITAL CHAOS
for only $3.50 and is packed with all this:
16 papers 800x800 pixels in .jpg format
34 elements in .png format
1 double black rose
2x single roses
2x spiked bat brads
2x bloodstained aged scrolls
3x satin bows
1 chained heart
1 wingedheart
3x stone crosses
3x skullwreath crosses
2x doodles, spiders and bone-crosses
2x satin drapes
2x spider webs
2x pearlbrooches
1 coffin frame
2x round bat frames
2x leather and pearl frames
3x wrought iron corner swirls
All made in PSP X2, no scripts or actions used. Please remember to read and respect my TOU, thanks!!
Hugs Kathy xxx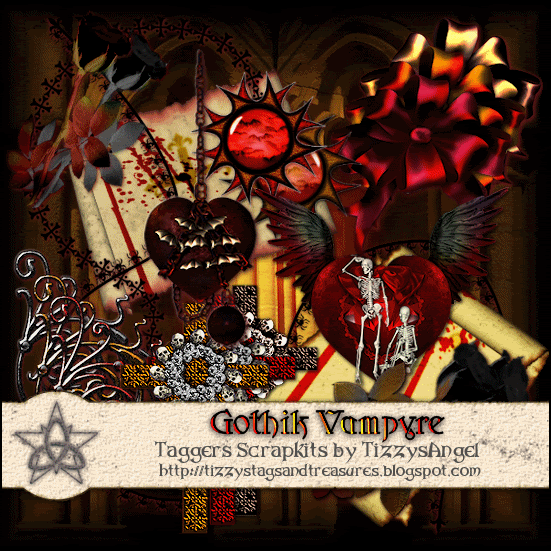 and here is the Freebie, enjoy!!
Download
HERE